In the late-19th century, the drama of global industrialization played out on the grasslands of Donbas. At the factory, people were exhausted by their contribution to industrial production. By contrast, at sites of "civilized nature", such as parks, they spent their leisure time and recovered their energy for further "achievements of labor". One such site in the Donbas region was the locality of Sviatohiria (literally – "holy hills").
Since the 16th century, when a monastery was established in this area (first written record dates from 1526), visitors have always flocked to Slovyanohirsk. Initially, these visitors were pilgrims; later they were holidaymakers and tourists. Most residents of the Donetsk region have visited this place at least once.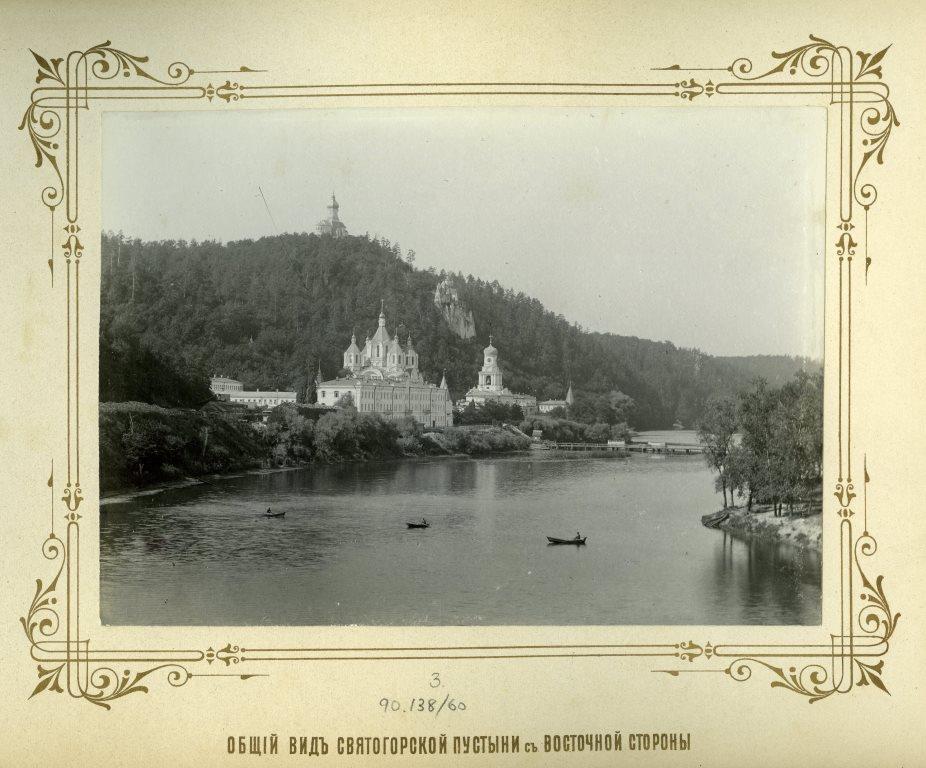 From an album of photos featuring the Sviatohirsk Monastery, early 20th cent. Source: Glamorgan Archives / DRLHM
In the 1920s, the monastery was repurposed as a vacation house. A monument to the Bolshevik leader Artem was erected nearby and the town was renamed Slovyanohirsk in 1963. In 1980, the monastery became a part of a historical and architectural reserve surrounded by vacation centers. One of the founders of the Ukrainian Helsinki Group, the renowned dissident Oleksa Tykhyi spent his vacation at one such a recreation center when he was a worker.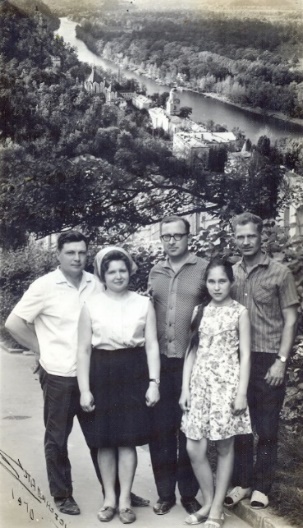 Oleksa Tykhyi (first on the right) on vacation with friends in Slovyanohirsk, 1970. Photo: Druzhkivka Art and History Museum
Many photographers have taken delight in Sviatohirya and made it the subject of their photography. But, in fact, the outcrop of chalk rocks above the Donets River, thick with forest, is a far from representative view of the Donbas steppe. The place combines nature and spirituality and is commonly considered to be a clean spring, a refuge amidst polluted cities and factories.
Teacher Yevhen Fialko with students from Druzhkivka School No 2 on the excursion. Author: Yurii Abramov
The contrast between polluted cities and pristine nature acquired a special significance during the perestroika period. In the summer of 1990, a nationwide eco-cultural march "Dzvin-90" took place. The final point of the Donetsk route was Slovyanohirsk. The demonstration was intended to promote Ukrainian national consciousness and raise ecological awareness after the disaster at the Chornobyl nuclear power plant. The campaign was organized by democratic forces opposing the Communist Party of the Soviet Union, and Ukrainians from the diaspora. The route of the march progressed from the West to the East of Ukraine. The Donetsk route covered Donetsk – Horlivka – Artemivsk (Bakhmut) – Zvanivka – Kostiantynivka – Druzhkivka – Yizhivka – Kramatorsk – Slovyansk – Slovyanohirsk. Ecological discourses were some of the most important forms of political messaging in the context of Ukraine's independence.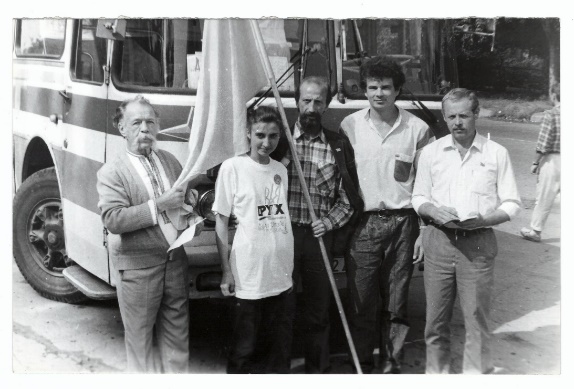 Participants at the eco-cultural march "Dzvin–90" setting out to Sviatohirsk, August, 2, 1990. Source: private archive of Oleh Maksymenko